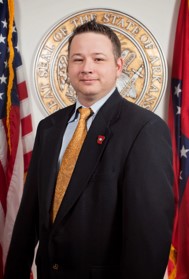 Matthew is currently a Senior GIS Analyst for the Arkansas GIS Office. Matthew began contracting for the Arkansas GIS Office in 2011 after serving nine years as an Intelligence Analyst in the United States Air Force. Matthew began his career at Hurlburt Field, FL where he provided Air Force Special Operations Command (AFSOC) aircrews training, mission planning support, and enemy threat analysis utilizing several Geographic Information Systems (GIS) oriented applications. Matthew moved on to the 4th Air Support Operations Squadron (4 ASOS) located in Mannheim, Germany where he continued to provide Intelligence and GIS related support to the unit in the execution of its mission.  Matthew has deployed numerous times serving in the campaigns of both Operation Iraqi Freedom and Operation Enduring Freedom. In May, 2011, he received an Honorable Discharge from the USAF.
In Matthew's current capacity his responsibilities include system and database administration for the Arkansas Spatial Data Infrastructure and its respective components within AWS's Cloud environment. This includes administrating GIS, Database,  and Web Server technologies as well as several web/portal applications/services hosted by Arkansas GIS Office or the Division of Land Surveys.
In his off time Matthew enjoys playing sports, hiking, and spending time with his children.
Phone: 501-682-3710
Contact Matthew (link downloads vCard)